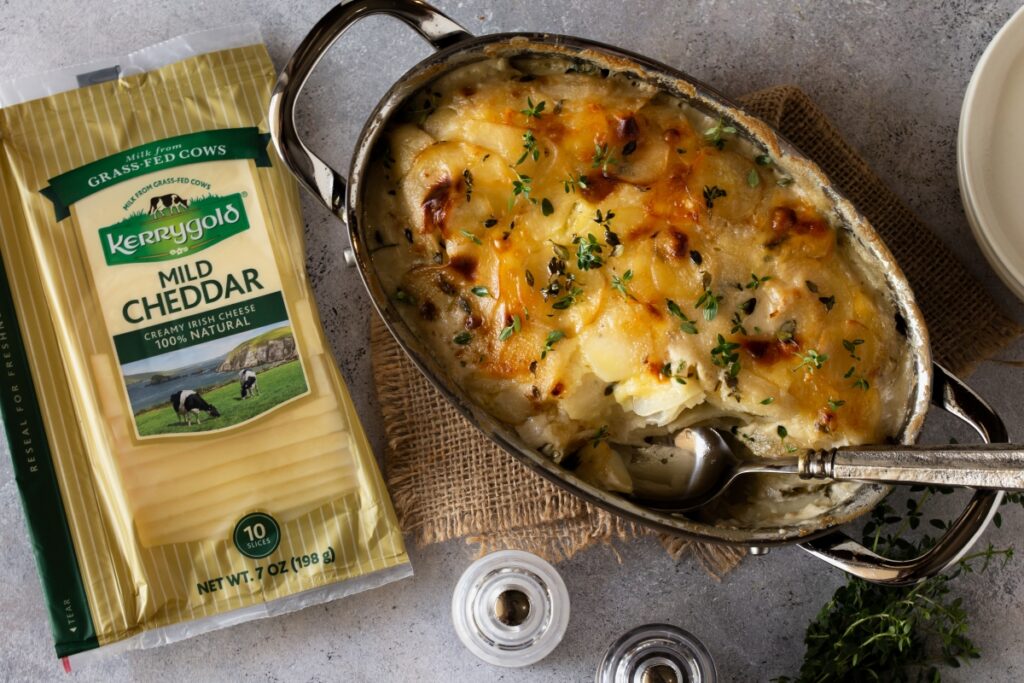 Ingredients:
2 pounds potatoes
1 1/2 cups heavy cream
2 teaspoons fresh thyme (plus additional for garnish)
6 Kerrygold® Mild Cheddar Slices
salt and pepper to taste
Method:
Preheat oven to 400 degrees. Spray an oval baking dish lightly with cooking spray and set aside.
Peel potatoes, cut into 1/8 inch thin slices and place in a large bowl.
Heat cream, thyme and garlic over low heat until warm but not boiling and pour over potatoes. Season with salt and pepper. Stir gently to coat.
Spoon a third of the potato and cream mixture into prepared dish and arrange so potatoes are evenly distributed.
Add 2 slices of Kerrygold® Mild Cheddar cheese. Repeat process two more times, finishing with cheese. Pour extra cream left in bowl over top.
Using a spatula, press down to compact layers.
Cover with foil and bake for 30 minutes, remove foil and bake for an additional 30 minutes.
Remove from oven, garnish with fresh thyme and let sit for 5 minutes before serving.
Source: Kerrygold USA