This cornbread is wonderfully flavorful and stays moist when made early in the day, kept covered with foil until serving time, and served at room temperature. If you prefer to serve it warm, you can get most of the work done the day before. Combine the dry ingredients in one bowl and the wet ingredients (eggs, buttermilk and melted butter) in another. Cook the bacon ahead and reserve 1 tablespoon of the fat; combine the crumbled bacon, scallions and cheese in a separate container. When the turkey comes out, combine the ingredients as directed and place the skillet in the oven. Your timing will be perfect!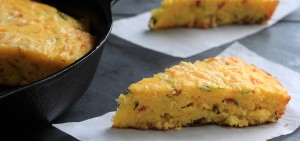 Ingredients:
4 slices bacon
1 cup all-purpose flour
3/4 cup yellow cornmeal
1 tablespoon sugar
1 teaspoon baking powder
1/4 teaspoon baking soda
1/2 teaspoon salt
2 eggs
1 cup buttermilk
2 ounces Kerrygold Salted Butter, melted
1 1/4 cups grated Kerrygold Aged CheddarCheese or Vintage Dubliner Cheese, divided
1/4 cup thinly sliced scallions (green part only)
Method:
1. Preheat the oven to 425° F.
2. Cook the bacon in a 9-inch cast iron skillet; transfer to a plate lined with paper towel and drain. Crumble when cool.
3. Brush the inside surface—sides and bottom—with the bacon fat and drain off all but 1 tablespoon.
4. Combine the flour, cornmeal, sugar, baking powder, baking soda and salt in a bowl.
5. Lightly beat the eggs in a second bowl; stir in the buttermilk and melted butter. Stir the wet mixture into the dry until just combined;
6. Stir in 1 cup of the cheese, scallions and crumbled bacon and transfer to the skillet.
7. Bake until the cornbread is golden around the edges and a toothpick inserted in the center comes clean, about 20 minutes.
8. Sprinkle with the remaining 1/4 cup of cheese and bake until the cheese is melted, another 4-5 minutes.
9. Cool at least 10 minutes before slicing.
Source: Kerrygold