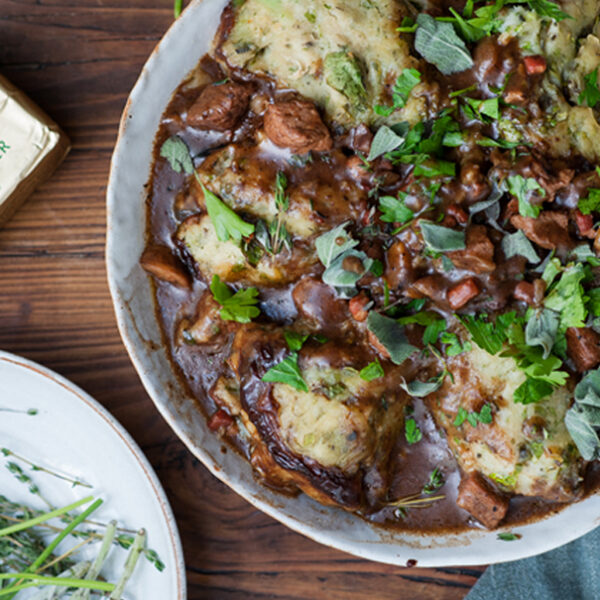 Winter Beef Casserole with Herby Potato Dumplings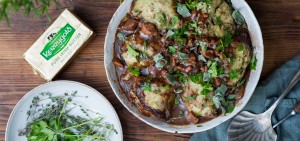 Ingredients:
For the casserole:
4oz Kerrygold salted butter
2oz flour
23oz stewing beef
6 shallots, peeled and diced
7oz pancetta
2 cloves garlic, crushed
1 teaspoon of fresh thyme, finely chopped
7oz chestnut mushrooms, quartered
3.5oz whole chestnuts, roughly chopped
14 floz stout
14 floz beef stock
2 tablespoons of dark chocolate, grated or nibs
For the herby potato dumplings:
35oz potatoes, peeled
3.5oz plain flour
3oz Kerrygold salted butter
1 tablespoon flat leaf parsley
1 tablespoon sage
Method:
Preheat the over to 285°F or Gas Mark 2. Place the beef in a large bowl and sprinkle with 0.5oz of flour and season with salt and pepper. Toss to coat.
Place a heavy bottomed saucepan or casserole dish over a medium heat and melt 1.5oz of butter. Add all of the beef and cook, stirring occasionally, for 5 minutes or until browned. Transfer the beef to a bowl.
Stir in the shallots and pancetta and cook for 5 minutes. Turn up the heat to get the pancetta really crispy and the shallots golden brown. Remove the shallots, pancetta and add to the same bowl as the beef.
Add another 1.5oz of butter and then add the mushrooms, garlic and chestnuts to the casserole dish and cook for 2 to 3 minutes. Then add all the browned ingredients back into the casserole dish.
Add the stout, beef stock, fresh thyme and the grated chocolate. Bring to the boil and then reduce the heat.
To make the potato dumplings, place the peeled potatoes in a saucepan and one third of th way with water, cover and bring to the boil and reduce to simmer and cook for 30-35 minutes or until the potatoes are completely cooked.
Drain the potatoes, season with sea salt and pepper, and add in the butter and finely chopped herbs and mash well. Next stir in the flour and mix until completely combined
Flour your hands and mold the potato and herb mixture into dumplings that are just a bit a smaller than a tennis ball. You should be able to make about six.
Before you add the dumplings to the stew, make a roux by melting 1oz butter in a small saucepan with a spoonful of the liquid from the cooked meat and 1.5oz of flour. Strain all the liquid off the meat and slowly whisk into the roux then pour the thickened sauce back over meat.
Then add the potato dumplings to the top of the stew so it's completely covered and put back in the oven uncovered for 35 minutes.
Source: Kerrygold