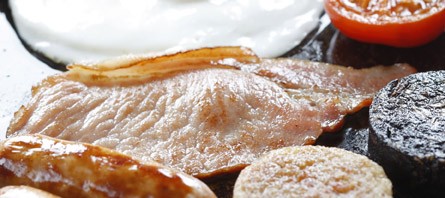 Traditional Irish Breakfast
Ever wondered how to make an Irish Style breakfast? Well look no further! It's really simple and a wonderful way to treat your  family and friends!
Ingredients (Per Person):
2 Donnelly Irish Style Sausages
2 Donnelly Irish Style Rashers/ Bacon
2 pieces of Donnelly Irish Style  Black Pudding (cut to approximately 2cm thick)
2 pieces of Donnelly Irish Style  White Pudding (cut to approximately 2cm thick)
1 Egg
1/2 Tomato
Batchelors Baked Beans
Method:
1. Turn your grill on to full heat.
2. Keep your plates underneath the grill to start them warming through.
3. Place your sausages on the grill.
4. Keep turning your sausages until fully golden and cooked through.
5. Place your rashers on the grill.  It is best to place them all facing the same direction with the rind of the rasher is showing. This will allow the heat from the grill above to crisp the rind of the rasher without drying out the meat.
6. Place the slices of Black and White pudding on the grill and cook until warmed through and golden on each side.
7. Empty the contents of a can of beans in to a small saucepan and place on low heat.
8. Fry the egg in a non-stick frying pan over a medium heat with a little oil.
9. Half the tomatoes and season with a little salt and pepper, sprinkle with a pinch of sugar and add a tiny knob of butter, pop them under a grill or in a hot oven until they are well cooked.
Serve with Toasted Bread , Kerrygold Irish Butter and Barrys Tea!  Enjoy!