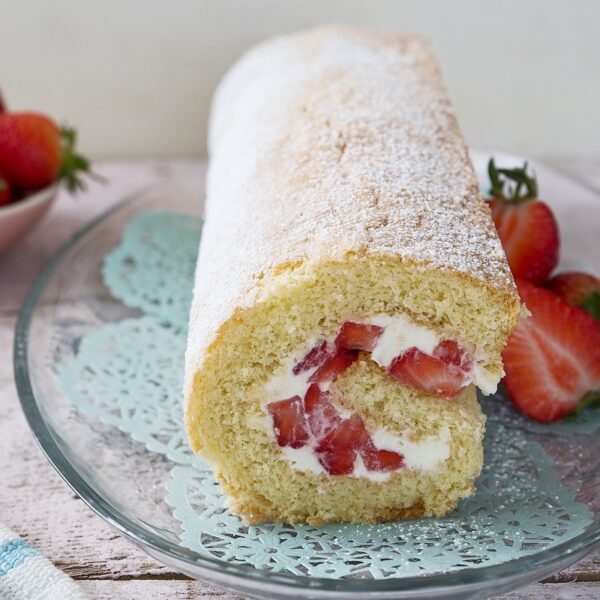 Swiss Roll with Strawberries & Cream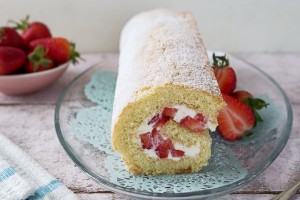 Ingredients:
75g/3oz Odlums Self Raising Flour
3 Eggs, separated
Pinch of Salt
75g/3oz Golden Caster Sugar
Few drops Vanilla Essence
Filling
250ml carton Cream, whipped
8-10 Strawberries, chopped
Icing Sugar, to dust
Method:
1. Preheat oven to 200°C/400°F/Gas 6. Line a swiss roll tin 33cm x 23cm/13″ x 9″ with greaseproof paper.
2. Put the egg whites into a large clean dry bowl, add a pinch of salt. Beat until mixture is stiff and dry looking in appearance. Add the sugar and continue beating until thick and shiny. Finally beat in egg yolks until thick and trail of beaters remain. Sieve the flour and gradually add to the egg mixture folding it in with a metal spoon. Lastly fold in the essence if used.
3. Transfer to the prepared tin and spread evenly. Bake for 10 minutes. Lay a sheet of greaseproof paper dusted with a little caster sugar on the work surface. When the cake is baked, turn it onto the paper, remove the lining paper, and trim the edges with a sharp knife. Roll the cake up from its longest edge with the paper inside. Leave to cool.
4. When cold, about 20 minutes, gently unroll and remove the greaseproof paper. Spread with the whipped cream and arrange chopped strawberries on top of cream.
Roll up again to form a swiss roll. Dust with icing sugar and serve.
Alternative Fillings:
Jam
Whipped cream & jam
Lemon Curd
Chocolate Spread
Note:
If using a smaller tin, for example 28cm x 18cm/11″ x 7″ simply use 50g/2oz Odlums Self Raising flour, 2 eggs, 50g/2oz Golden Caster Sugar.
Source: Odlums