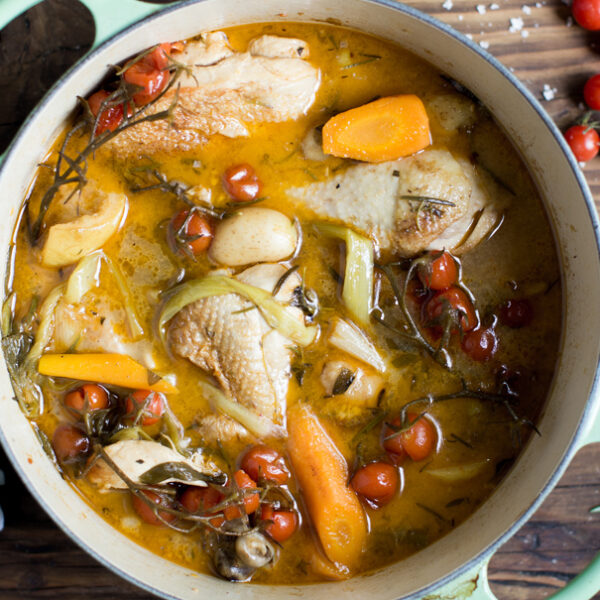 Summer Chicken Casserole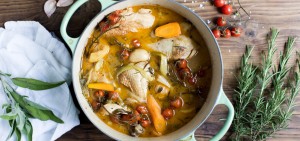 Ingredients:
3oz Kerrygold salted butter
1 large chicken, cut into 8 pieces
4 garlic cloves, peeled and left whole
8 scallions (or peeled whole shallots)
16 cherry tomatoes (left on their vines, if possible)
6 carrots, peeled and chopped into 2-inch pieces
16 baby potatoes, washed
1 cup of white wine (optional)
4 cups chicken broth
1 lemon, zest and juice
1 tablespoon runny honey
1 tablespoon Dijon mustard
1 sprig flat leaf parsley, chopped
4 sprigs fresh thyme
1 sprig fresh sage
2 bay leaves
sea salt and freshly ground black pepper
Method:
1. Place a casserole dish over a medium heat and add half the butter.
2. Once the butter has melted, sear the chicken pieces skin side down until lightly browned and season with sea salt and freshly ground black pepper. Remove from the casserole dish and set aside.
3. Add the rest of the butter to the dish and continue to sear the rest of the vegetables, excluding the potatoes, until lightly browned. Then return the seared chicken to the pot and add the baby potatoes.
4. Pour in the white wine and simmer for 5 minutes, allowing the alcohol to evaporate. Adding the wine is optional but does give a beautiful flavour.
5. Whisk together the chicken stock, lemon (zest and juice), mustard and honey. Pour into the chicken casserole. Slice up the leftover lemon, and add to the dish.
6. Lastly stir in the herbs and cover. Transfer the casserole to the pre-heated oven for 1.5 hours.
Source: Kerrygold USA