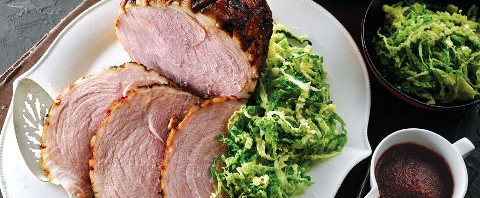 Sticky Glazed Fillet of Ham with Champ & Redcurrant Sauce
Great traditional party food to serve after the St. Patrick's Day parade. Left overs are great in sandwiches, quiches, frittatas, pies and pasta.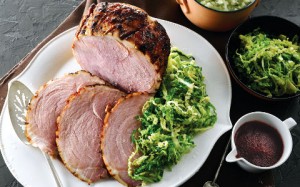 Ingredients:
1 fillet of ham, approx. 2kg
1 small handful of black peppercorns
1 bay leaf
1 onion, peeled and chopped
For the Sticky Glaze
2 garlic cloves, crushed
5cm piece of ginger, peeled and grated
Finely grated zest and juice of 1 lime
3 tablesp. clear honey or maple syrup
1 teasp. chinese five-spice powder
2 tablesp. dark soy sauce
1 tablesp. balsamic vinegar
Redcurrant Sauce
240mls redcurrant jelly
Juice of 1 orange
Juice of 1 lemon
2 tablesp. port
1 teasp. ground ginger
½ teasp. mustard powder
Champ
2 tablesp. butter
4 scallions, finely chopped
8 tablesp. milk
10-12 freshly cooked floury potatoes, cut into even-sized chunks
Method:
1. Place the fillet of ham in a large saucepan, cover with water and add the peppercorns, bay leaf and onion.
2. Cover with a lid and simmer for 20 minutes per ½ kg and 20 minutes over – 1 hour 40 minutes for a 2kg joint.
3. Fifteen minutes before the joint is ready, preheat the oven to Gas Mark 6, 200°C (400°C).
4. Mix all the ingredients for the glaze in a bowl.
5. Remove the joint from the water and place in a baking dish lined with parchment paper or tin foil.
6. Allow to cool a little. Keep the cooking liquid to add to soups but discard the flavorings.
7. Remove the layer of skin and score the fat. Brush half the glaze over the meat.
8. Put the joint in the oven and cook for 20–30 minutes or until the top begins to brown.
9. After the first 10 minutes brush over the remaining glaze.
10. To make the champ: Melt the butter in a small saucepan and gently sauté the scallions until softened. Pour in the milk and bring to a simmer. Mash the potatoes and then using a wooden spoon, beat in the milk mixture until you have achieved smooth, creamy mash. Taste and season.
11. To make the redcurrant sauce: Sieve the redcurrant jelly into a small bowl. Add the orange and lemon juice, port, ginger and mustard powder. Whisk to combine.
Serving Suggestions
Serve the bacon with champ, sautéed cabbage and the redcurrant sauce.
Source: Bord Bia