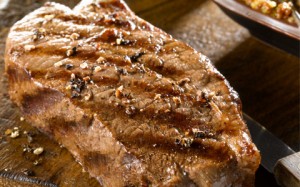 Ingredients:
Fillet steaks
Mustard & Herb Dressing:
1-2 cloves garlic, finely chopped
Handful of finely chopped herbs i.e. parsley, coriander, basil
1 tablesp. Balsamic or Wine Vinegar
2 tablesp. whole-grain mustard
1 red chilli, sliced
Salt and lots of black pepper
3 tablesp. olive oil
Method:
Mix the dressing ingredients well together.
Season the steaks. Heat the pan – cast iron ridged pan if available. Cook the steaks for 3-6 mins. on each side. Allow to rest for a few minutes before serving. Grilled or barbecued vegetables are great with the steaks. Spoon the dressing over the steaks and vegetables.
Best Quality Beef Cuts to Grill – Sirloin, Striploin, Fillet. The meat must be well aged to ensure tenderness. A drizzle of olive oil, black pepper and balsamic vinegar will add extra flavour. Season well before cooking. Heat grill/pan to maximum, a cast iron ridged pan gives excellent results.
Source: Bord Bia