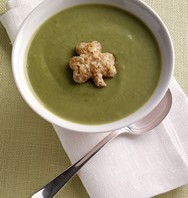 St Patrick's Day Soup with Shamrock Shaped Cheese Croutons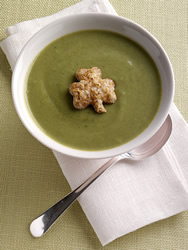 Ingredients:
Serves 4
60g butter
2 medium white onion, chopped
600g potatoes, peeled and chopped
Salt and pepper
800ml vegetable or chicken stock
240g sorrel leaves, shredded
Cheese Croutons
2 slices thick wholemeal bread
Olive oil or melted butter to brush on
100g grated Irish cheese
Method:
1. Melt the butter in a saucepan, add the onion and potato and cook gently, covered for about 10 minutes, stirring occasionally.
2. Add salt, pepper and stock and bring to the boil.
3. Simmer uncovered for about 5 minutes until the potatoes are tender.
4. Add the sorrel leaves and cook for 5 minutes more.
5. Liquidise the soup until smooth.
To make the Cheese Croutons:
1. Cut shapes from the bread and brush lightly with olive oil or butter.
2. Grill on one side then turn over and sprinkle with the grated cheese and grill until cheese is melted.
3. Place on top of the hot soup.