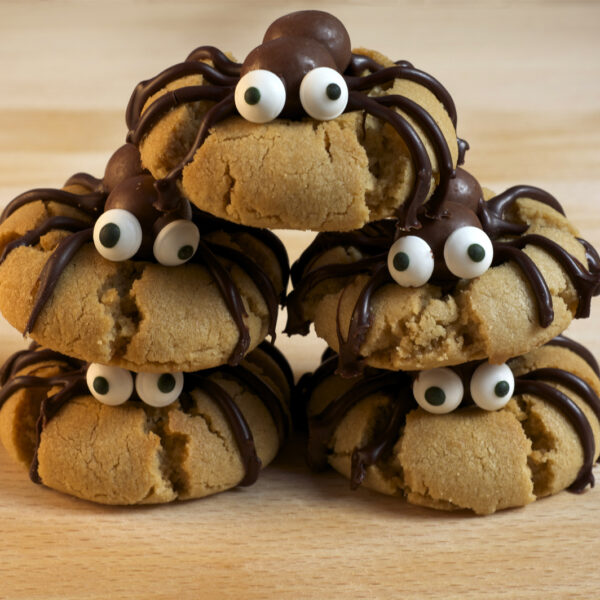 Spider Cookies
Ingredients:
225g softened Kerrygold butter
150g light brown sugar
150g brown sugar
1 tsp vanilla extract
2 eggs
350g plain flour
Pinch of salt
1 teaspoon bicarbonate of soda
200g dark chocolate, chopped in to chips
Maltesers/Chocolate Balls
100g dark chocolate
White fondant icing
Icing Pen/Food glue (optional)
Method:
Beat the butter and sugar in a large mixing bowl until light and fluffy.
Add the vanilla extract and beat again.
Gradually beat in the eggs.
Sieve the flour with the baking powder and the salt.
Add the sifted flour mixture to the butter and egg mixture and beat slowly until the mixture comes together.
Add in the chocolate chips and beat until combined.
Wrap the dough in cling film in rolls and refrigerate. This will make it easier to handle.
When ready to bake the cookies, unwrap the roll of dough and slice in to slices and place on a baking tray lined with parchment paper. Ensure the slices are well spaced apart as they will spread in the oven.
Bake for 10-12 minutes in a preheated oven 180°C (350°F/Gas Mark 4).
Allow to cool on the tray before decorating.
To Decorate:
Melt dark chocolate and, using a piping bag, pipe the warm chocolate onto the centre of the cookie, drizzling the chocolate down the sides to create spider legs.
Place two Maltesers/chocolate balls in the centre of the cookie to create a spiders body.
Roll two small circles of white icing fondant to create eyes.
Using an icing pen or melted chocolate draw in spiders eyes on the white fondant.
Attach the white icing fondant to the front of the Malteser (using water or food glue to make it stick).
Source: Kerrygold