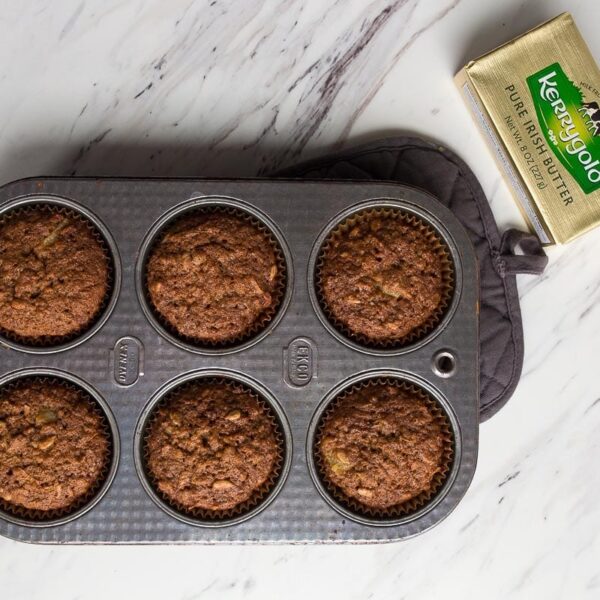 Spiced Morning Muffins
Ingredients:
1/2 cup + 2 tablespoons granulated sugar
1 cup + 2 tablespoons all-purpose flour
2 teaspoons cinnamon
1/2 teaspoon ground ginger
1 teaspoon baking soda
1/4 teaspoon sea salt
1/3 cup hulled sunflower seeds
1/4 cup dried coconut shreds
1 small apple, freshly grated
1/2 cup pineapple chunks, diced
1 cup freshly grated carrots
1 large egg
1/2 cup melted Kerrygold Salted Butter
Method:
1. Preheat the oven to 350ºF, and ensure the oven rack is in the lower third of the oven.
2. In a large bowl, whisk together the sugar, flour, cinnamon, ginger, baking soda, salt, sunflower seeds and coconut shreds. Mix very well.
3. Next, add the grated apple, pineapple chunks, grated carrot, egg and melted butter. Stir very well to combine.
4. Divide the mixture between 14 muffin cups, and bake for 30-35 minutes, until golden brown. Let cool for 5 minutes in the pan, and then move them to a cooling rack to cool completely.
5. Place in an airtight container and leave at room temperature, or freezer for up to 3 months. Serve with extra melted butter!
Source: Kerrygold USA