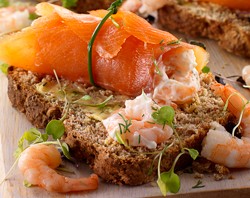 Smoked Salmon Rolls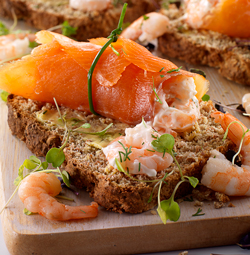 Ingredients:
1 packet Odlums Bake Your Own Farmhouse Brown Bread Mix
250g/8oz Shelled Prawns (cooked and cold)
3 tablespoons Mayonnaise
3 tablespoons Greek Style Yogurt
2 tablespoons Lemon Juice
1 tablespoon chopped Dill
Freshly Ground Pepper
325g/12oz Smoked Salmon (sliced)
Thin Sprigs of Spring Onion or chives to tie the rolls
Lemon slices and sprigs of Fresh Dill to garnish
Method:
1. Make the Odlums Quick Farmhouse Brown Bread Mix as per pack instructions. Allow to cool.
2. Mix together the prawns, mayonnaise, yogurt, lemon juice, dill and pepper.
3. Separate the slices of smoked salmon. Take 2 thin slices and form into a roll.
4. Put some prawn filling into each roll and tie with a tin strip of the spring onion or chive.
5. Cut the bread into slices; place a slice of bread on a serving plate, spread with a thin layer of butter or mayonnaise.
6. Sit a smoked salmon roll on each slice and garnish with lemon slices and sprig of dill or as preferred.
Source: Odlums