Recently, I discovered how to make mashed potatoes in a crock-pot, and it is such a simple process! No boiling the potatoes, no draining, and much less to clean. In fact, once you make mashed potatoes in the crock pot, I don't think you'll be going back to the old way. Kerrygold salted butter is perfect for mashed potatoes, and I really think the slow cook in butter makes these so tender! – Christina Lane, Dessert For Two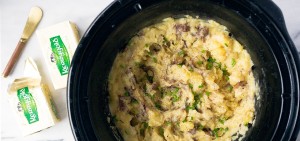 Ingredients:
4 pounds red potatoes (also called new potatoes)
2 cloves garlic (whole)
3/4 cup chicken broth
4 ounces Kerrygold salted butter
1 cup whole milk, warmed
Salt, to taste
Pepper, to taste
Chives, for garnish
Method:
1. First, make sure the potatoes are the size of golf balls or smaller. You may have to chop some of the larger ones up. Try to ensure all the pieces are of equal size.
2. Next, in the bottom of a 5-quart minimum slow cooker, add the potatoes, garlic cloves, and chicken broth. Stir very well.
3. Dice half of the butter, and scatter it across the top.
4. Replace the lid on the slow cooker, and turn to HIGH. Cook for 3-4 hours.
5. When the potatoes are done (easily pierced with a knife), turn off the slow cooker.
6. Add the rest of the butter and warm milk, and mash with a potato masher or hand mixer. Once the potatoes are as lumpy (or lump-free) as you like, add salt and pepper, to taste.
7. Serve in a bowl garnished with fresh chives.
Source: Kerrygold USA