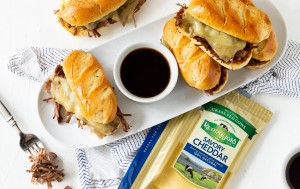 Ingredients:
3 pounds chuck roast, trimmed
2 cups water
1 salt-free beef bouillon cube (or bouillon packet)
½ cup reduced sodium soy sauce (tamari sauce also works well here)
1 teaspoon dried rosemary
1 teaspoon dried thyme
1 teaspoon garlic powder
1 bay leaf
4 whole peppercorns
10 crusty rolls (medium size)
3 tablespoons melted Kerrygold Salted Butter
10 slices Kerrygold Mild Sliced Cheddar Cheese
Method:
1. Place chuck roast in slow cooker. Add water, beef bouillon, soy sauce, rosemary, thyme, garlic powder, bay leaf and peppercorns; gently stir. Cover and cook on low for 8 hours.
2. Carefully remove beef from slow cooker. Shred beef and set aside. Strain the au jus sauce and set aside.
3. Preheat the broiler. Split the rolls in half and place cut side up on sheet pan. Brush rolls with melted butter and broil until toasted.
4. Pile beef on toasted rolls and layer with cheese on top of meat. Broil until cheese is melted.
5. Serve with warm au jus sauce.
Source: Kerrygold USA