You really can't go wrong with a steak sandwich. The caramelized red onions add a hint of sweetness whilst the mustard adds a bit of heat – perfection!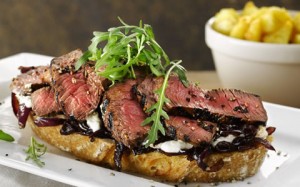 Ingredients:
4 steaks, sirloin, ribeye or striploin
1-2 tablesp. sherry vinegar
2 tablesp. rapeseed oil
Salt and cracked black pepper
A knob of butter
2 large red onions, peeled and finely sliced
150g crème fraîche
2 tablesp. horseradish sauce
½ teasp Lakeshore mustard
½ teasp. white wine vinegar/lemon juice
4 thick slices of bread
120g rocket leaves
Method:
Mix together a splash of sherry vinegar, a tablespoon of oil and cracked black pepper and rub this mixture over the steaks. Set aside while you cook the onions.
Heat a tablespoon of oil and a knob of butter in a large frying pan over a medium heat. Sauté the onions until softened, this will take about 15 minutes. Add in a tablespoon of the sherry vinegar and a little salt and continue to cook for another five minutes until the vinegar has evaporated. Set aside.
Heat a griddle pan until really hot. Season the steaks with salt. Place them two at a time on the pan and cook for two minutes on each side for rare or until cooked to your liking.
While the steaks are cooking, in a small bowl mix together the crème fraîche, horseradish sauce, mustard and white wine vinegar/lemon juice.
Brush the bread with a little oil on each side and toast under the grill. Spread a little horseradish cream over each slice, then spoon over the onion mixture, slice the steak and lay on top. Arrange some rocket leaves on top and serve.
Serves 4
Source: Bord Bia