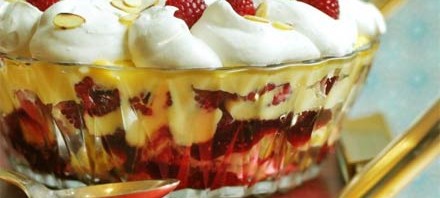 Sherry Trifle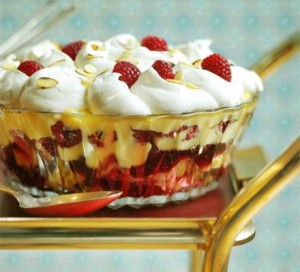 Ingredients:
160g/ 6 oz Madeira, sponge or pound cake, halved and cut into thick slices
Or
1 160g packet trifle sponges
3 tbsp sweet sherry
1 x 135g block Chivers Jelly made up to one pint
300g/10 oz fresh strawberries or raspberries, or defrosted frozen ones plus a few extra for decoration.
500 ml packet ready made custard.
500ml/ 2 cups double or whipping cream, softly whipped
Handful flaked almonds, toasted (optional)
Method:
The trifle can be made in one large glass dish or into individual glasses
1. Line the bottom of the dish or glasses with the cake slices or trifle sponges.Sprinkle with the sherry and leave to soak for 5 minutes.
2. If using fresh strawberries, slice thickly (reserve a few for decoration), if using frozen leave whole. Otherwise, lay the fruit evenly over the cake. Press lightly with a fork to release the juices.
3. Pour over the liquid jelly making sure it covers the sponge. Place the dish into the refrigerator and leave until the jelly is set.
4. Once set, spoon over the custard, again in a thick layer.
5. Finally, finish with a thick layer of whipped cream either spooned over or piped using a piping bag.
6. Decorate with strawberry slices or raspberries and toasted, flaked, almonds if using.