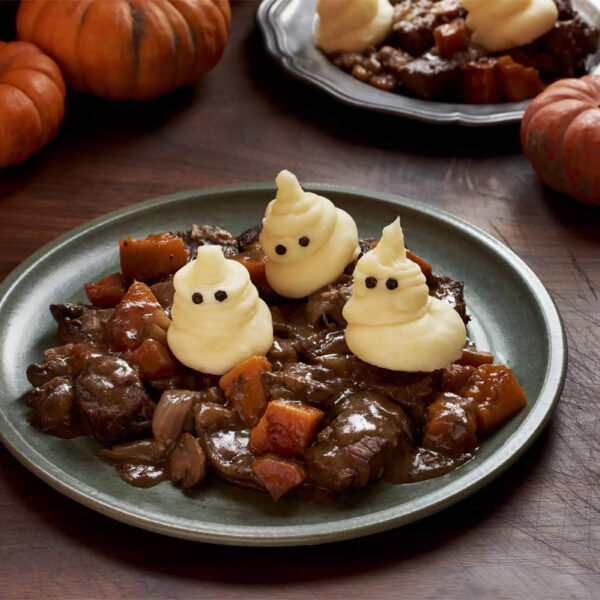 Scary Beef Casserole with Ghostly Potato Pals
Ingredients:
1 tbsp vegetable oil, 1 onion (chopped)
450g stewing beef (cubed)
1 parsnip (peeled and chopped)
3 carrots (sliced)
1 red pepper (Chopped)
450ml water
1 Knorr Meal Maker Beef Casserole
1.5 kg flour potato
125 ml semi skimmed milk
1 tablespoon butter
Peppercorns to create ghostly potato pals eyes
1 piping bag
Method:
Preheat the oven to 180°C, 170°C fan assisted, Gas mark 4.
Heat the oil in a frying pan and fry the onion and bacon until golden. Add the beef and fry until browned.
Add the beef, onion and remaining vegetables to a casserole dish. Blend the contents of the sachet with the water and pour into the casserole dish.
Cover and cook for 2 hours or until the beef is tender.
While the casserole is simmering, bring a large saucepan of water to the boil. Add the potatoes and boil for about 15 mins or until tender. Drain well and return to pan on a very low heat for 2 mins to completely dry
Heat the milk and butter in a small pan, add in the potatoes. Remove pan from heat, then mash potatoes using an electric hand whisk or potato masher.
When the casserole is ready, pipe the potato onto the dish to create the ghostly potato pals. Piping in a steady, round motion will help your pals stand up right and look fantastic.
Using peppercorns, carefully push into the 'ghost' to create their ghoulish eyes!
Source: Knorr