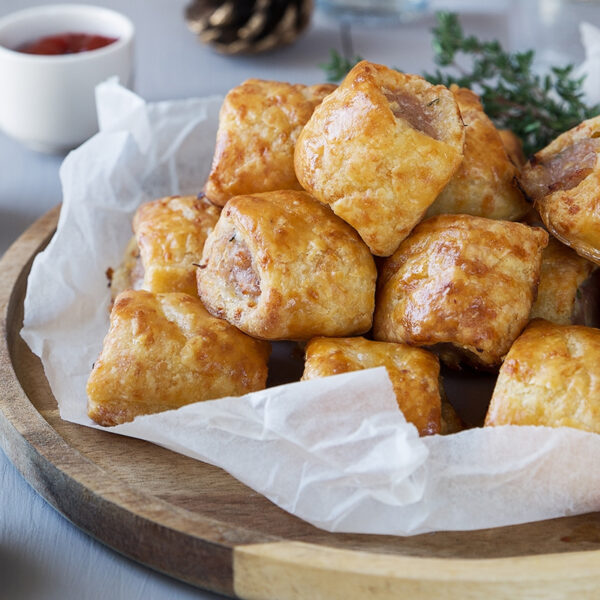 Sausage Rolls
Ingredients:
Pastry
175g/6oz Odlums Cream Plain Flour
Salt & Pepper
50g/2oz Grated Cheddar Cheese
125g/4oz Butter or Margarine
Cold Water
Filling
450g/1lb Pork Sausage Meat
1 Eating Apple (peeled, cored and grated)
Good Pinch Mixed Herbs
Glaze
Beaten Egg (optional)
Method:
1. Preheat oven to 200°C/400°F/Gas 6. Lightly grease a flat baking tray.
2. Sieve flour, salt and pepper into a bowl. Add the cheese and coarsely rub in the margarine.
3. Bring the ingredients together with some cold water.
4. Turn dough onto a lightly floured board and roll out into a strip about 30cm x 10cm/12″ x 4″.
5. Mix the sausage meat, apple, and mixed herbs together. Roll in some flour.
6. Moisten one long edge of the pastry with cold water.
7. Roll out the sausage meat into a long sausage 30cm/12″ and place onto the pastry and roll.
8. Press the moistened side well so that the pastry is sealed, then cut into individual rolls.
9. Place on the prepared tin, brush with glaze if liked and bake for about 25 minutes until golden brown.
10. Serve warm, enjoy!
Source: Odlums