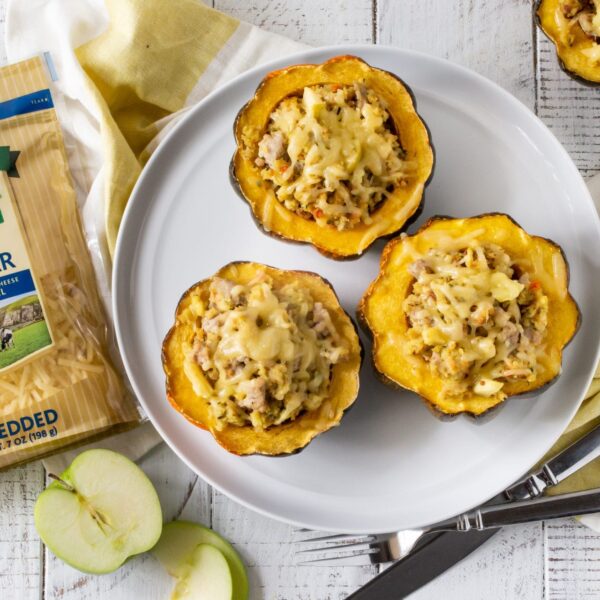 Sausage and Apple Stuffed Acorn Squash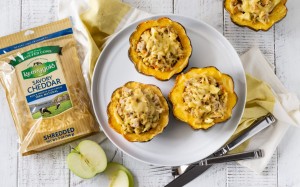 Ingredients:
3 small acorn squash (about 1 1/4 pounds each)
1/2 pound seasoned pork sausage
3/4 cup diced apple
3 cups prepared stuffing
1 cup Kerrygold® Savory Shredded Cheddar Cheese
Method:
1. Preheat oven to 375 degrees. Line a baking sheet with foil and set aside.
2. Slice off a small sliver of the bottom and top of each squash and then cut in half lengthwise. Scrape out seeds and place squash halves on baking sheet (small slice side down). Lightly brush insides of squash with olive oil and sprinkle with salt and pepper, Bake for 30 minutes or until tender.
3. Meanwhile, cook sausage in a skillet until almost cooked through. Add diced apple and cook for 3-5 more minutes or until apple is slightly softened and sausage is cooked through.
4. Place stuffing in a large bowl. Add sausage and apple mixture to bowl along with 1/2 cup shredded cheese. Stir to combine. Divide mixture among 6 squash halves and sprinkle remaining 1/2 cup of cheese evenly over squash. Bake for 5-7 minutes or until cheese is melted and stuffing is warmed through. Serve immediately.
Source: Kerrygold