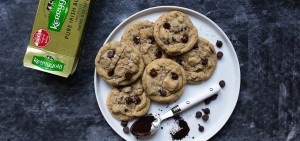 Ingredients:
6 tablespoons Kerrygold salted butter
1/4 cup dark brown sugar
3 tablespoons granulated sugar
1 large egg yolk
1/2 of a vanilla bean, sliced open and scraped
1/2 cup + 2 tablespoons all-purpose flour
1/4 teaspoon fine sea salt
1 heaping teaspoon instant espresso powder
1/4 teaspoon baking soda
1/4 teaspoon baking powder
1/3 cup semisweet chocolate chips
Method:
Preheat the oven to 375. Line a light-colored baking sheet with a silicone mat.
In a medium bowl, beat the butter with an electric mixer on medium speed until fluffy, about 20 seconds.
Add the sugars, and beat for about 30 seconds. The mixture will turn a pale color and be fluffy.
Next, add the egg yolk and the insides from the vanilla bean, and beat until just combined.
Whisk together the flour, salt, espresso powder, baking soda and baking powder in a separate bowl.
Sprinkle the flour on top of the butter mixture, and beat just until combined.
Stir in the chocolate chips.
Scoop the dough into 12 dough balls, and space them evenly on the baking sheet.
Bake for 8-10 minutes, removing the cookies from the oven when the edges just start to turn golden brown.
Let the cookies rest on the baking sheet for 1 minute before moving them to a wire rack to cool.
Source: Kerrygold