Try this dressing with roast beef or lamb, either hot or cold. It adds a good zing without much effort.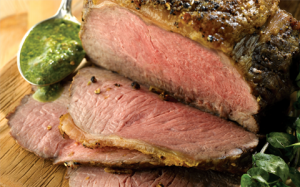 Ingredients:
2-3 kg striploin beef, trimmed
A good tablesp. Lakeshore mustard
1 tablesp. black pepper, crushed
Sea salt
Dressing
4 tablesp. flat leaf parsley, chopped
4 scallions, chopped
2-3 anchovy fillets
2 tablesp. drained capers (in brine) plus 2 tablesp. of the brine
250ml olive oil
Method:
Set oven to Gas Mark 6, 200C (400F)
Place the beef on a roasting tin, fat side up. Spread with the mustard and black pepper and season with sea salt. Place the joint in the hot oven for 15 minutes, reduce the temperature to Gas Mark 4, 180C (350F) and allow 15 minutes per half kg for rare, plus 20 minutes extra for medium or 30 minutes extra for well done. For really accurate results use a meat thermometer, it is really worth the investment.
When the meat is cooked transfer to a carving board and let it rest uncovered for 15 minutes.
Meanwhile make the dressing – tip all the dressing ingredients into the processor and whiz for a few seconds. Taste for seasoning. Thinly slice the beef and serve with the dressing, some new potatoes and a green salad.
Serves 6-8
Source: Bord Bia