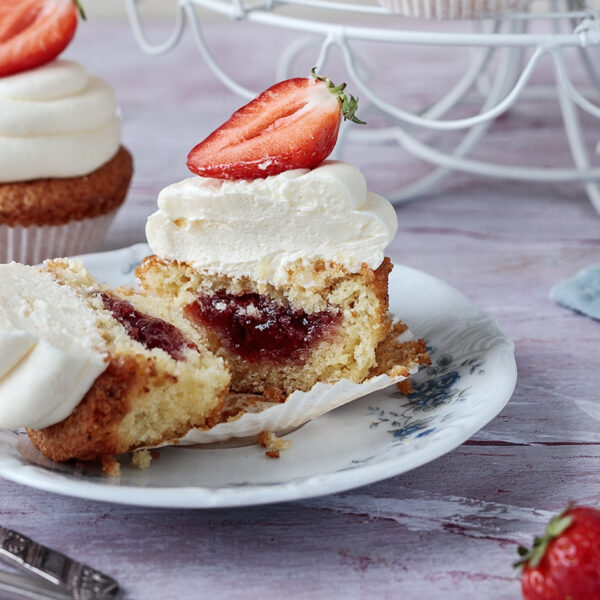 Prosecco Cupcakes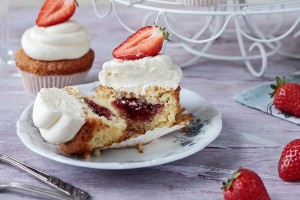 Ingredients:
175g/6oz Odlums self raising flour
250ml Prosecco
175g/6oz Unsalted butter
175g/6oz Caster sugar
2 Eggs
1 Tsp Vanilla Essence
2 Tbsp Concentrated prosecco
Topping
12 Strawberries
375g/13o Icing sugar
150g/5oz Room temperature unsalted butter
1 Tsp Vanilla Essence
2 Tbsp Concentrated Prosecco
Method:
1. Concentrated Prosecco: Pour the prosecco into a heavy bottomed saucepan and simmer until reduced by half. (This becomes the concentrated Prosecco)
2. Cupcakes: Preheat the oven to 170'C/350F/Gasmark 3.5. Cream the butter and sugar until light and creamy, beat the eggs, add a little at a time to the butter mixture alternating with the flour, stir in the vanilla essence and the concentrated prosecco.
3. Divide between 12 cupcake cases and bake for 12-15 minutes until golden brown.
4. Filling: Add all ingredients to a saucepan and boil together for 5 minutes, take off the heat and allow to cool, totally
5. Topping : Beat the icing sugar with the room temperature butter until light and creamy stir in the vanilla essence and concentrated prosecco.
6. When the cupcakes are cool, scoop out the top and put a scoop of prosecco jam filling in the middle. Pipe the topping over the top and insert a strawberry for decoration on the top.
7. Serve with a glass of prosecco.
Source: Odlums