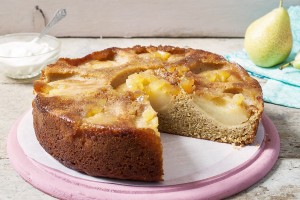 Ingredients:
175g/6oz Odlums Self Raising Flour
125g/4oz Golden Caster Sugar
125g/4oz Butter or Margarine
2 Eggs
2 tablespoons Cold Water
Pinch of Salt
Topping
25g/1oz Butter or Margarine
25g/1oz Demerara Sugar
Pinch of Cinnamon
Rind of Lemon (optional)
Tin of Pear Halves, drained
Whole Walnuts (optional), to decorate
Method:
1. Preheat oven to 190°C/375°F/Gas 5. Grease a 2 pint casserole dish with the 25g/1oz of butter/margarine.
2. Mix the demerara sugar, cinnamon and lemon rind (if used) together and sprinkle over the base of dish.
3. Arrange pear halves on top, placing whole walnuts into centre of each half if desired.
4. The sponge batter is made using all-in-one method. Put the flour, sugar, butter/margarine, eggs, water and salt into a mixing bowl.
5. Beat well until mixture is smooth and creamy. Pour into the prepared dish.
6. Bake for 25-30 minutes approx. Turn out onto serving dish and serve with custard, crème fraîche or ice cream.
Source: Odlums