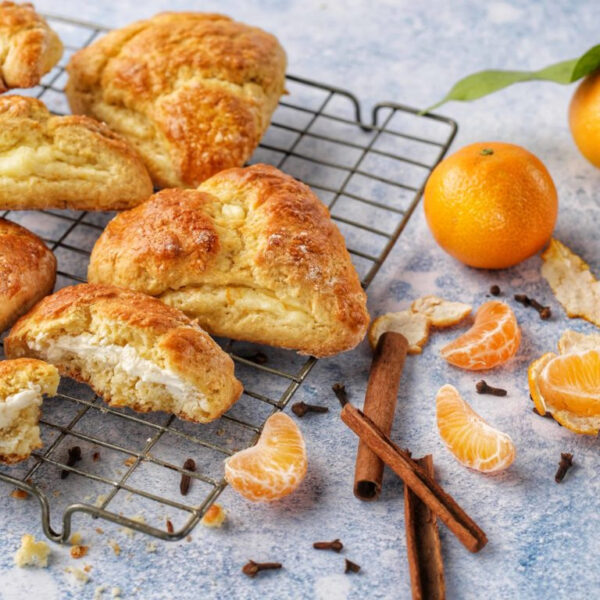 Orange Scone Wedges
These Orange Scone Wedges ? are perfect for that afternoon tea break.
Ingredients:

275g/10 oz Odlums Self Raising Flour
50g/2 oz Caster Sugar (superfine sugar, baker's sugar)
75g/3 oz Margarine
Grated Rind of Orange
125ml/4 fluid oz Milk
1 Egg
1 Egg (beaten)
2 tablespoons Granulated Sugar (White Sugar)
Filling
200g/packet Philadelphia Cream Cheese
50g/2oz Caster Sugar (superfine sugar, baker's sugar)
Grated Rind of 1 Orange
Method:

1. Preheat oven to 200°C/400°F/Gas 6. Lightly grease two flat baking tins.
2. Make filling by beating all Ingredients together until smooth. Leave aside.
3. Mix the flour and sugar in a large bowl. Add the margarine and rub through with fingertips until mixture looks like breadcrumbs.
4. Combine the unbeaten egg and milk, add the orange rind and mix to a dough.
5. Turn onto a lightly floured board and gently knead. Divide dough in half. Pat or roll each half into a 23cms/9″ round. Spread filling over half of each round.
6. Fold each dough round in half over filling. Using a sharp knife cut each half round into 6 wedges and place on prepared tin.
7. Brush top with beaten egg and sprinkle with granulated sugar.
8. Bake for 10 to15 minutes until light golden brown. Transfer to a wire tray. Serve warm.

Recipe Notes:

Orange rind can be replaced with lemon rind. Because of the filling these do not need butter or jam!
Source: Odlums