Old Fashioned Trifle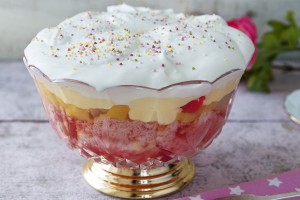 Ingredients:
Sponge
135g block Raspberry Jello
415g tin Fruit Cocktail (drained, keeping the juice)
4 tablespoons Sherry (optional)
500g Custard

170ml carton Cream (whipped)
To Decorate
Chopped Walnuts, Flaked Almonds (gently toasted), Grated Chocolate or Hundreds & Thousands
Method:
1. Dissolve jello in 300ml/½pt of boiling water, stirring well.
2. Bring up to 600ml/1pt with the reserved juice, sherry if used, and water.
3. Slice sponge into fingers/strips and arrange in the base of a large glass bowl.
4. Pour over the jelly mixture, press down well with the back of a spoon and smooth the top. Allow to set.
5. Place the fruit cocktail on top of the jelly and sponge layer, then pour over the custard and spread evenly.
6. Next spread over the whipped cream and finally sprinkle with preferred topping.
Source: Odlums