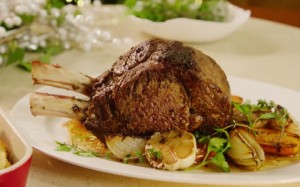 Ingredients:
1 tsp black peppercorns
1 tbsp English mustard powder
1.5kg (3.lb) French-trimmed rib of beef on the bone, at room temperature
3 tbsp rapeseed oil
2 large onions, peeled and quartered with root left intact
2 large carrots, halved lengthways
1 garlic bulb, cut in half
small handful of soft thyme leaves, plus extra to garnish
Method:
Preheat the oven to 230°C (450°F/gas mark 8).
Toast the peppercorns in a dry frying pan until aromatic, then put in a pestle and mortar and grind until cracked. Mix in the mustard and 2 teaspoons of salt. Wipe the meat with damp kitchen paper and rub with the mustard mix.
Heat 1 tablespoon of the oil in a frying pan that's large enough to take the rib of beef. Add the beef and quickly sear until lightly browned on all sides.
Pour the rest of the oil into a roasting tin, then add the onions, carrots, garlic halves and thyme, tossing to coat. Season to taste, then sit the seared beef in the middle of the vegetables.
Roast in the oven for 15 minutes, then reduce the oven temperature to 200°C (400°F/gas mark 6) and roast for 10 minutes per 450g (1lb) for rare, 12 minutes for medium-rare and 20–25 minutes for well done. A joint this size will take just under 1 hour to cook to medium-rare. Take out and baste halfway through the cooking time.
When the beef is cooked to your liking, transfer to a platter with the garlic halves, cover with tin foil and leave to rest for 30 minutes while you make the gravy.
Source: Bord Bia