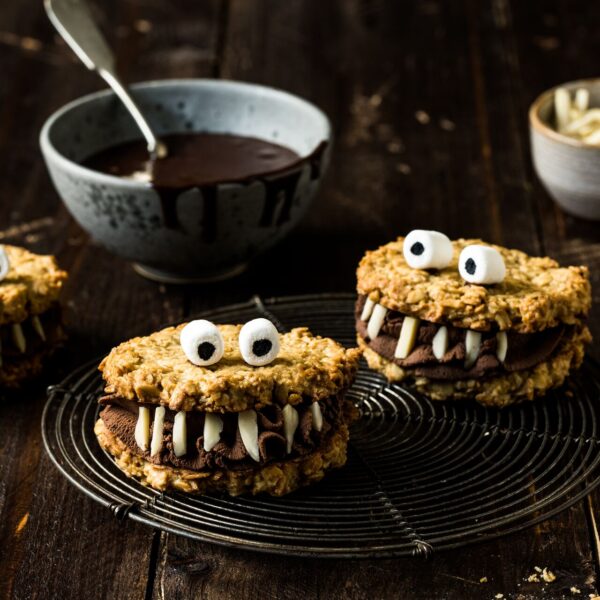 Monster Cookies
Ingredients:
For the Cookies:
2 medium eggs
70g brown sugar
1 tsp vanilla extract
250g of oatmeal
60g of desiccated coconut
150g Melted & Cooled Kerrygold Pure Irish Salted Butter
50g plain flour
For The Filling:
300g dark chocolate couverture
200g of whipped cream
20g Kerrygold Pure Irish Salted Butter
To Decorate:
Almonds
Little marshmallows
Food colour pencil or melted chocolate
Method:
1. Start with the cream. Finely chop the chocolate and place in a bowl with the butter. Bring the cream to a boil briefly in a pot, remove immediately from the heat and pour over the chocolate and butter. Let stand for about 2 minutes and then stir until combined.
2. Cover the cream, keep at room temperature.
3. In the meantime, place the eggs together with the sugar and the vanilla extract in a bowl and beat with food processor or hand mixer for a few minutes until it's thick creamy.
4. Now add the oatmeal, coconut and the melted butter and stir.
5. Incorporate the flour. Cover the dough and let it rise for about 10 minutes.
6. Preheat the oven to 180 °C and prepare a sheet of baking paper.
7. Evenly divide the dough with an ice cream scoop and place on the baking sheet. Press lightly with moistened fingers and then bake for approx. 12-16 minutes.
8. Remove from the oven and place on a wire rack. Allow to cool completely.
9. Beat the cream with a hand mixer for 2-3 minutes and then pour it into a piping bag. Put 1 tablespoon of the cream in a small bowl and hold it back.
10. Sprinkle a cookie with cream and put on a second cookie as a lid. Lightly press the almond sticks into the chocolate cream as teeth.
11. Paint the marshmallows either with a food coloring pencil or with melted chocolate. Fix with the cream on top.
Source: Kerrygold