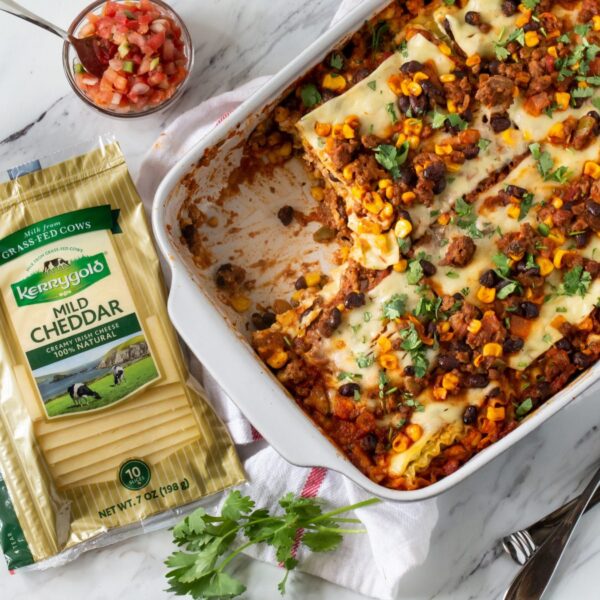 Mexican Lasagna
Ingredients:
1 (15-ounce) container whole milk ricotta cheese
1 egg, beaten
1/4 cup chopped fresh cilantro
1 pound ground beef
1 package taco seasoning
24 ounces salsa
1 cup water
1 (15-ounce) can black beans, rinsed and drained
1 1/2 cups frozen corn
9 lasagna noodles
18 slices Mild Sliced Cheddar Cheese
Method:
1. Preheat oven to 350 degrees. Lightly grease a 9 x 13" pan. Set aside.
2. In a small bowl, stir together ricotta cheese, egg and cilantro until well combined. Set aside.
3. Brown meat in a large pan. Drain meat and prepare with taco seasoning according to package directions. Stir in salsa, water, beans and corn. Reserve one cup of meat sauce to top lasagna later.
4. Spread another cup of meat sauce in the bottom of the pan. Layer with 3 lasagna noodles. Spread 1/3 of the ricotta mixture on top of the noodles.
5. Add 1/3 of meat sauce on top of ricotta. Layer 6 slices of cheese on top of meat sauce. Repeat layers with lasagna noodles, ricotta, meat and cheese two more times.
6. Spread reserved cup of meat sauce on top of final cheese layer.
7. Spray a piece of foil with cooking spray, cover lasagna and bake for 45 minutes. It will appear soupy at this time.
8. Remove foil and bake for another 15-20 minutes. Remove from oven and allow to cool for at least 15 minutes before cutting and serving.
9. Serve with sour cream, pico de gallo, green onions and/or sliced olives.
Source: Kerrygold USA