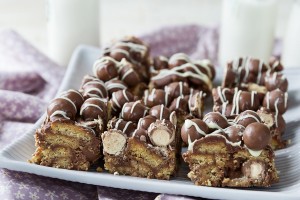 Ingredients
125g/4oz Butter
200g/7oz Milk Chocolate
3 tablespoons Golden Syrup
225g/8oz Digestive Biscuits (crushed)
225g/8oz Maltesers
To Decorate
50g/2oz White chocolate, melted (optional)
Method
1. Line a swiss roll tin 28cm x 18cm/11″ x 7″ with greaseproof paper.
2. Melt the butter, chocolate and golden syrup in a saucepan over a low heat.
3. Remove from the heat, then add in the crushed biscuits and Maltesers. Mix well then pour into the prepared tin, press down well and chill until set.
4. If liked, drizzle melted white chocolate over the cooled traybake.
5. Cut into bars.
Source: Odlums