Irish Fruit Scones
Delicious simply buttered or serve with whipped cream, Strawberry Jam and a few fresh strawberries.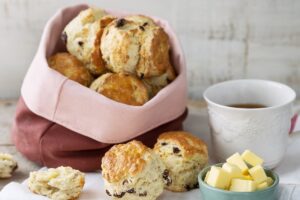 Ingredients:
225g/8 oz Odlums Self Raising Flour
150ml/¼ pt Milk (approx)
Pinch of Salt
25g/1 oz Caster Sugar
25g/1 oz Butter or Margarine
50g/2 oz Currants, Raisins or Cherries (as desired)
Method:
1. Sieve flour and salt into a bowl, stir in sugar if used.
2. Add currants, raisins, cherries (as desired). Then rub in butter/margarine.
3. Add sufficient milk to make a soft dough.
4. Turn onto a floured board and gently knead to remove any cracks.
5. Roll out lightly to 1″ in thickness. Cut into scones with a cutter dipped in flour.
6. Place on a floured preheated baking sheet/tray, glaze if liked with beaten egg or milk.
7. Bake in a preheated oven 220°C/425°F/Gas 8 on upper shelf position for 10 mins approx.
8. Cool on a wire tray.
Source: Odlums