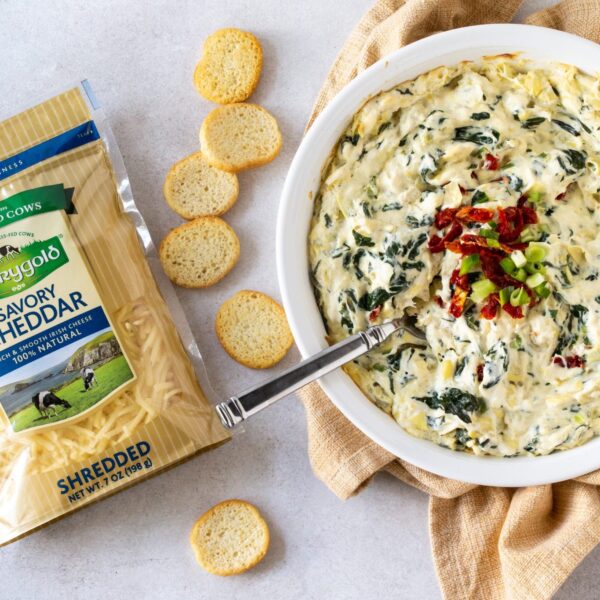 Hot Cheesy Artichoke Crab Dip
Ingredients:
1 tablespoon Kerrygold Salted Butter
1 cup packed fresh spinach
1 -8 ounce package light cream cheese, softened
½ cup sour cream
Juice of ½ lemon
1 teaspoon hot sauce
1 teaspoon minced fresh garlic
1 jalapeno, cored and minced
1 -12 ounce can artichoke hearts, drained and chopped
3 green onions, chopped
1 – 4 ounce can lump crab meat
½ cup sun-dried tomatoes, julienned (dry, not packed in oil)
1 cup Kerrygold Savory Shredded Cheddar Cheese
Method:
1. Preheat oven to 350° F.
2. In a small pan, melt 1 tablespoon butter. Add spinach and cook until just wilted. Set aside.
3. In a medium bowl, stir together cream cheese, sour cream, garlic, lemon juice and hot sauce until combined.
4. Add shredded cheese, sun-dried tomatoes, spinach, green onions, artichoke hearts, chopped jalapeno, and crab meat.
5. Stir to combine.
6. Bake in preheated oven for 20 minutes or until heated through.
7. Serve immediately with crostini.
Source: Kerrygold USA