This simple bread is quick to make and perfect for picnics, the yoghurt gives it a lovely moist texture and the honey adds just the right amount of sweetness.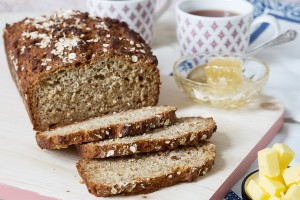 Ingredients:
200g/7oz Odlums Coarse Wholemeal Flour
175g/6oz Odlums Cream Plain Flour
50g/2oz Porridge Oats, plus extra for dusting
1 level teaspoon Bread Soda
250g carton Yoghurt
1 Egg
2 tablespoons Olive Oil
3 tablespoons Honey
150ml/¼pt Milk
Method:
1. Preheat oven to 190°C/375°F/Gas 5. Lightly grease a 900g/2lb loaf tin and sprinkle some oats inside the tin.
2. Put the wholemeal flour, plain flour and oats into a large mixing bowl and mix well.
3. Sieve in the bread soda and mix to combine.
4. In a separate bowl beat together the yoghurt, egg, olive oil, honey and milk.
5. Add to the dry ingredients and combine together gently until all dry ingredients are moistened.
6. Transfer to the prepared tin and sprinkle the extras oats on top, then make a cut down the centre with a knife.
7. Bake in a central position in the oven for 40-45 minutes until well risen and golden brown.
8. Loaf is baked when tapping underneath produces a hollow sound.
9. Turn onto a wire tray to cool. Delicious served warm with butter and a drizzle of honey.
Source: Odlums