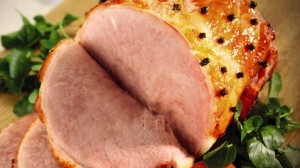 Ingredients:
• Irish Ham 3kg
• 2 tblsp honey
• 2 tblsp Lakeshore wholegrain mustard
• 4 tblsp brown sugar
• 20 cloves
Method:
1. Cook Ham as directed.
2. Combine the honey and mustard in a mixing bowl. Remove the cooked ham from the pot and place on to a baking tray.
3. Next remove the outer layer of fat off the meat, but leave the fine layer that remains underneath.
4. Sear this with a knife in criss crosses or diagonals, and pierce the entire ham with the cloves.
5. Pour the honey and mustard over, and then finish by sprinkling over the brown sugar.
6. Place in the hot oven and bake for 20 minutes or until the glaze has caramelized. This can be served hot or cold.