Good Auld Bacon And Cabbage
Irish bacon and cabbage is the quintessential St. Patrick's Day dish.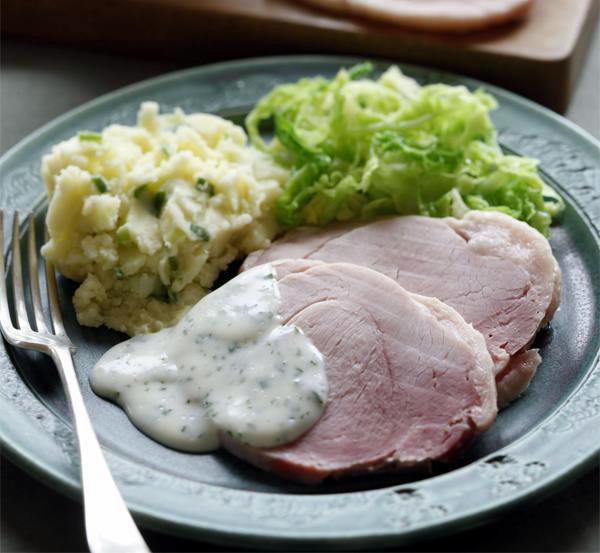 Ingredients:
2lb Boiling Bacon
1 Medium sized cabbage – Savoy if possible.
50g (2oz) butter
freshly ground pepper
Parsley Sauce
Method:
Cover the bacon in cold water in a large pot and bring slowly to the boil. If the bacon is very salty there will be a white froth on top of the water, in which case it is preferable to discard the water and start again. Finally, cover with hot water and the lid of the pot and simmer until almost cooked, allowing 20 minutes for every 2.2kg (1lb).
Meanwhile, trim the outer leaves of the cabbage and cut it into quarters, removing the core. Discard the core and outer leaves. Slice the cabbage across the grain into thin shreds. If necessary, wash it quickly in cold water. About 20 minutes before the end of cooking the bacon, add the shredded cabbage to the water in which the bacon is boiling. Stir, cover and continue to boil gently until both the cabbage and bacon are cooked.
Take the bacon out and strain the cabbage and discard the water (or, if it's not too salty, save it for soup). Add a lump of butter to the cabbage. Season with lots of ground pepper; it's unlikely to need more salt, but add some if necessary. Serve the bacon with the cabbage, parsley sauce and floury potatoes.