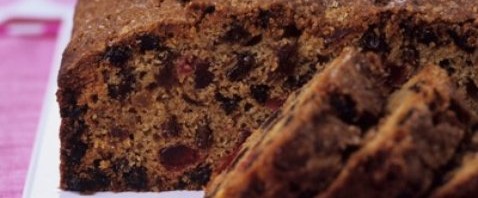 Gluten Free Fruit Cake
Gluten free fruit cake
Ingredients:
350g/12oz Tritamyl Gluten Free Flour
1/2 glass Whiskey
225g/8oz Sultanas
225g/8oz Raisins
225g/8oz Currants
50g/2oz Chopped Cherries
50g/2oz Shamrock Chopped Peel
25g/1oz Chopped Almonds
Pinch of Salt
1/2 teaspoon Mixed Spice
1/2 teaspoon Nutmeg
50g/2oz Ground Almonds
250g/9oz Margarine
125g/4oz Brown Sugar
6 Eggs
Method:
1.Sprinkle half of whiskey over the dried fruit and chopped almonds and leave overnight.
2.Sieve flour, salt and spices into a bowl and mix in the ground almonds.
3.In a separate bowl, cream margarine and sugar until light and creamy.
4.Alternately stir in the eggs and Tritamyl mixture.
5.Stir in the mixed fruit.
6.Transfer to a greased and lined 9″/23cm tin.
7.Bake in a preheated oven at 170°C/325°F/Gas 3 for 3 1/2 – 4 hours approx.
8.Cool in tin. When cold, pour over the remaining whiskey.
Recipe Notes:
Suitable for Christmas / Wedding Cake