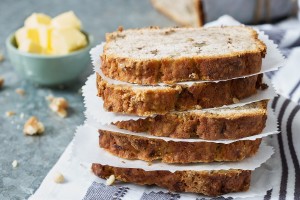 Ingredients:
300g/10 oz Odlums Gluten Free Tritamyl Self Raising Flour
Pinch of Bread Soda
75g/3 oz Butter or Margarine (room temperature)
150g/5 oz Golden Caster Sugar
2 Eggs, beaten
4 medium Bananas, mashed
80g packet Chopped Walnuts
Method:
1. Preheat oven to 180°C/350°F/Gas 4. Grease and base line a 2lb loaf tin.
2. Beat butter/margarine and sugar together. Add eggs and bananas and beat well.
3. Mix in flour and bread soda, then stir in walnuts.
4. Bake in preheated oven for approx 45-50 minutes until firm and well risen.
5. Leave in tin for 5 minutes then remove and cool on a wire tray.
Source: Odlums