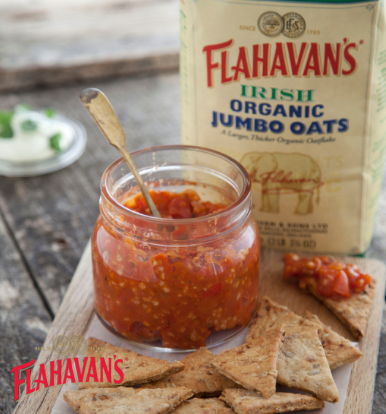 Flahavans Oatmeal Salsa
Spice up a Friday night in with our oatmeal Salsa!
Ingredients:
2 tbsp. olive oil
75g Flahavan's Oatmeal
1 large onion – finely chopped
2 cloves garlic – finely chopped
1 tbsp. balsamic vinegar
Juice of half a lemon
Juice of 1 lime
1 red chilli chopped with seeds
2 x 400g tins chopped tomatoes
2 large tomatoes chopped (skin removed)
2 tbsp sugar
1 tbsp fresh herbs e.g. coriander
Method:
1. Heat the oil in a large pot and sauté the onions for 2 – 3 minutes.
2. Add the pinhead oatmeal and cook for 3 – 5 minutes, stirring occasionally.
3. Add the garlic, balsamic vinegar, lemon juice, lime juice and chilli to the pot.
4. Add the 2 tins of tomatoes, chopped tomatoes, herbs and sugar to the pot. Season well. Cook over medium heat for 20 – 25 minutes until the sauce reduces and the pinhead oatmeal softens. Add water if required.
5. Leave to cool before serving.