Flahavan's Eggy Muffins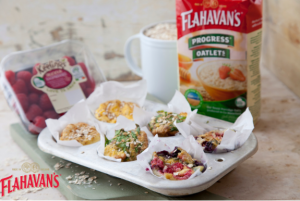 Ingredients:
6 eggs
80g Flahavan's Progress Oatlets
100 mls of low fat milk handful of chopped baby spinach leaves
60g chopped mushroom
½ chopped red pepper
100g chopped sliced ham
Salt & Pepper
Method:
Mix the egg, oats and milk together in a food processor.
Add chopped spinach, mushrooms, salt and pepper
Grease a 6-hole muffin tin with oil and line each with parchment paper, then evenly divide the egg mixture.
Top with peppers and ham.
Bake for 15-20 mins until the muffins are puffed up and set.
These can be served warm or cold.
Source: Flahavans