Easy Caramel Rolls with Apple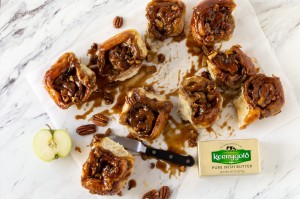 Ingredients:
1 loaf frozen sweet bread dough, thawed
10 tablespoons butter, softened (divided) Unsalted Butter
1 cup + 2 tablespoons brown sugar (divided)
1 teaspoon cinnamon
2-3 small Granny Smith apples, peeled and chopped
1/2 cup heavy cream
1/2 cup chopped pecans
Method:
1. Thaw dough according to package instructions.
2. Spray a 9 x 12 baking pan with cooking spray and set aside.
3. When dough is thawed, roll out to a 12 x 16 rectangle. Spread 2 tablespoons of the softened butter on top of dough and then evenly sprinkle with 3 tablespoons of the brown sugar, 1 teaspoon cinnamon and apples.
4. Starting from the shorter side, roll the dough up jelly roll style being sure to get all of the apple pieces inside.
5. Once completely rolled, use a serrated knife to cut into 9 equal pieces.
6. In a small pan melt 8 tablespoons of butter and add 1 cup brown sugar, stir until sugar is dissolved and whisk in 1/2 cup heavy cream.
7. Pour sauce in the prepared pan and sprinkle 1/2 cup chopped pecans on top.
8. Place rolls on top of caramel sauce.
9. Cover and place in refrigerator overnight. Rolls should be double in size in the morning.
10. Remove rolls from refrigerator one hour before baking. (rolls will continue to rise)
11. Preheat the oven to 350 degrees. Bake rolls for 30 minutes.
12. Let the rolls cool in the pan for 10-15 minutes and then invert onto parchment paper. Serve warm.
Source: Kerrygold