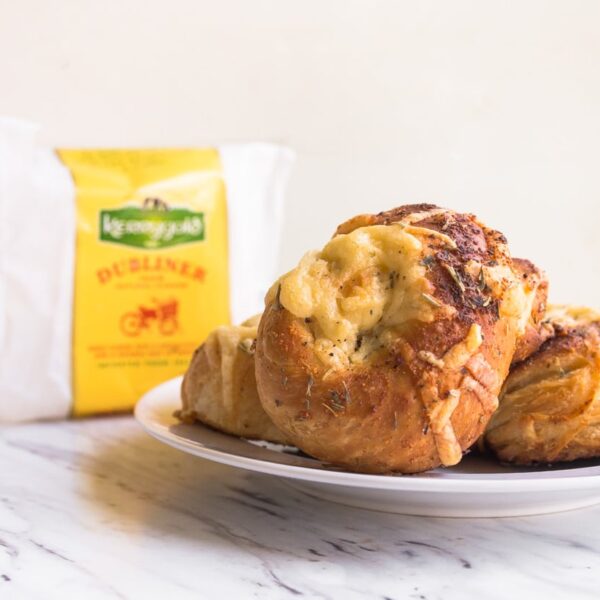 Dubliner Cheese Garlic Knots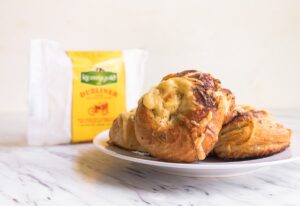 Ingredients:
1 roll jumbo refrigerated flaky biscuits
5 tablespoons Kerrygold Salted Butter
1/4 teaspoon salt
1 teaspoon garlic powder
1 teaspoon dried Italian herbs
1/2 cup grated Kerrygold Dubliner® Cheese
Method:
1. Preheat the oven to 375.
2. Pop open the can of biscuits, and separate them into 8 biscuits.
3. Using your hands, fold each biscuit piece in half (into a half-moon shape), and then roll it out into a 9" snake.
4. Use both hands to press down while you roll back and forth until a snake shape forms.
5. Once each piece of dough is 9" long, make a loop in the center (see photo), and then tuck one end into the center of the loop to form a loop.
6. Place each knot on a parchment-lined baking sheet.
7. Melt the butter and whisk in the salt, garlic powder and dried herbs.
8. Brush generously over each knot, but reserve about 2 tablespoons for when the rolls come out of the oven.
9. Pile 1 tablespoon of Dubliner on each roll.
10. Bake the knots until golden brown, about 14-15 minutes. Keep an eye on them, and don't be afraid of a little browning.
11. When the knots come out of the oven, brush with the remaining butter mixture, and serve.
Source: Kerrygold