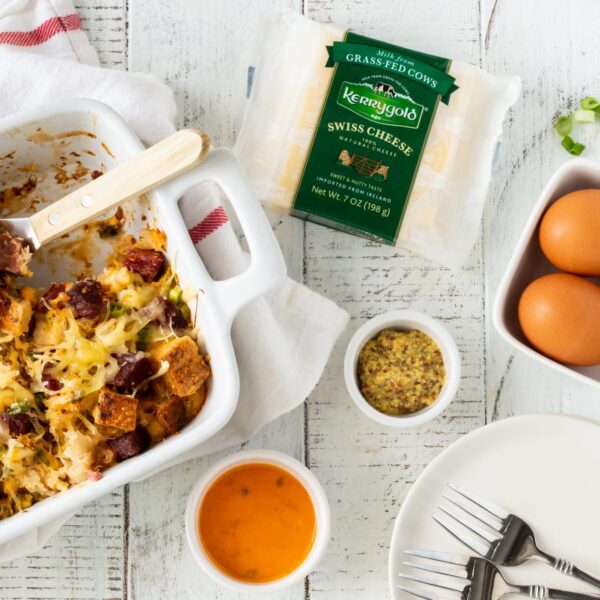 Corned Beef Breakfast
Ingredients:
4 cups cubed rye bread
4 ounces shredded Kerrygold Swiss Cheese
2 tablespoons melted Kerrygold Unsalted Butter
2 1/2 cups cubed, cooked corned beef
1 (14-oz) can sauerkraut, well drained
3 green onions, chopped and divided
3 large eggs
3/4 cup plus 2 tablespoons milk
1/3 cup thousand island dressing
2 teaspoons stone ground mustard
Salt and pepper
Method:
1. Preheat oven to 350.
2. Toss bread with butter, place cubes on baking pan and lightly toast in oven for 5-7 minutes.
3. Meanwhile, whisk together eggs, milk, dressing and mustard. Season with salt and pepper.
4. In a large bowl, combine toasted bread with corned beef, sauerkraut, 2/3 cup cheese and all green onions except 1 tablespoon. Pour egg mixture over bread cube mixture and gently stir to combine.
5. Place combined egg and bread mixture in 11 x 7 baking dish.
6. Bake uncovered for 35-40 minutes or until liquid is nearly absorbed. Top with remaining cheese and bake another 5 minutes or until cheese is melted.
7. Sprinkle with remaining green onions and allow to cool for 5-10 minutes before serving.
Source: Kerrygold USA