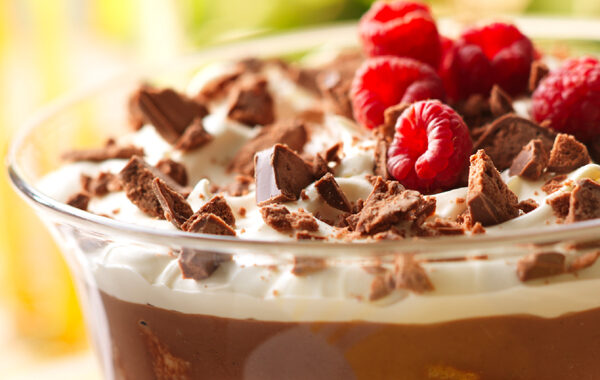 Chocolate & Raspberry Trifle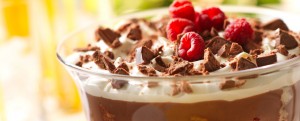 Ingredients:
150 g Madeira cake or Sponge cake
175 g Fresh raspberries
2 tbsp Fresh orange juice
500 ml Tub of fresh Vanilla custard
100 g Bournville Chocolate broken up
300 ml double cream
1 Cadbury Wispa chopped
Method:
1. Break up the cake and place into a large glass serving dish, crush 3/4 of the raspberries and place over the sponge with the orange juice. Reserve the remaining raspberries for decoration.
2. Place the custard into a pan with the chocolate, warm it over a low heat to melt the chocolate, mix well and pour over the cake and raspberries. Chill for half an hour.
3. Whip the cream until just holding shape and spoon over the custard, top with the chopped Wispa bar and remaining raspberries, chill for a further ½-1 hour before serving.
4. Replace the raspberries with strawberries for a great alternative.