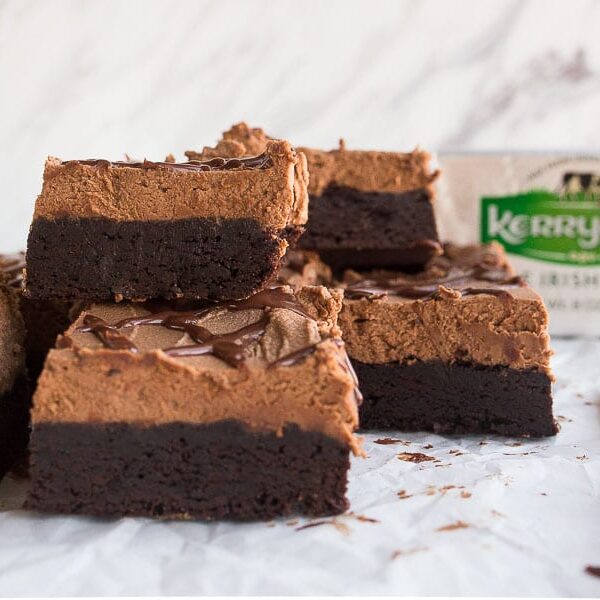 Chocolate Mousse Brownies
Ingredients:
For the Mocha Brownies
4 tablespoons diced Kerrygold Unsalted Butter
1/2 cup + 1 tablespoon granulated sugar
1/4 cup + 2 tablespoons unsweetened cocoa powder
1/4 teaspoon salt
1/2 teaspoon vanilla extract
1/2 teaspoon instant espresso powder
1 large egg
1/4 cup all-purpose flour
For the Mocha Mousse
1 large egg
2 tablespoons granulated sugar
1 cup cold heavy whipping cream, divided use
1/2 teaspoon instant espresso powder
1/2 cup semisweet chocolate chips
To Decorate
1/4 cup chocolate chips
2 tablespoons heavy whipping cream
Method:
1. Preheat the oven to 325º F, and line a 9 x 5-inch loaf pan with parchment paper.
2. In a microwave-safe bowl, combine the butter, sugar and cocoa powder.
3. Microwave for 30 seconds on HIGH.
4. Stir, and microwave for another 30 seconds on HIGH.
5. Stir the mixture very well, and then add the salt, vanilla and espresso powder. Stir for 1 minute to cool the mixture.
6. Next, add in the egg, and stir until its incorporated.
7. Finally, add the flour, and stir for 50 strokes!
8. Spread the batter into the prepared pan.
9. Bake for 23 minutes, or until a toothpick inserted comes out with fudge crumbs clinging to it. The surface of the brownies is shiny when done and starting to crack.
10. Cool the brownies in the fridge.
11. Next, make the mousse: beat the egg with the sugar for about 2-3 minutes, until it's pale yellow and foamy.
12. Beat in 1/2 cup of the heavy cream just for a few seconds to combine. Pour everything into a heavy-bottomed saucepan, and place over medium heat.
13. Stir constantly while the mixture starts to thicken, about 3-4 minutes. Do not let it boil or simmer. It will start to coat the back of a spoon when its thickened. Remove from heat.
14. Add the chocolate chips to the pan, and cover. Let sit undisturbed for 1 minute.
15. Remove the lid, and whisk very well to dissolve the chocolate.
16. Pour this mixture into a bowl and chill it for about an hour. It will start to firm up.
17. About an hour before you want to serve, beat the remaining 1/2 cup of cream in a clean bowl until soft peaks are just starting to form.
18. Remove the chocolate mixture from the fridge, and use a small spoon to make small dollops of the mousse that are about 1 tablespoon each. Begin adding these chocolate mixture pieces to the bowl while beating the cream. After a few minutes, everything should be homogenous and fluffy.
19. Add the espresso powder to the mixture, and beat just to combine.
20. Scrape the mousse on top of the brownie in the pan and refrigerate for an hour before serving.
21. To decorate, heat the heavy cream in the microwave until steaming hot, about 45 seconds. Add the chocolate chips and stir until they melt. If they don't want to melt, place the bowl back in the microwave and heat on 50% power for 30 seconds until everything melts.
22. Remove the brownies from the pan using the parchment paper handles. Drizzle the melted chocolate over the mousse brownies, slice into 8 pieces and serve.
Source: Kerrygold USA