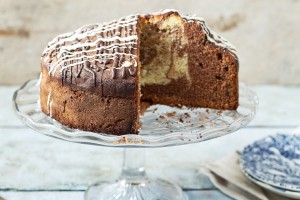 Ingredients:
225g/8oz Odlums Self Raising Flour
225g/8oz Butter (room temperature)
225g/8oz Golden Caster Sugar
5 Eggs, lightly beaten
2 tablespoons Cocoa, sieved
Topping
50g/2oz Dark Chocolate, melted
50g/2oz White Chocolate, melted
Method:
1. Preheat oven to 180°C/325°F/Gas 4. Grease and base line a 20cm/8″ deep cake tin.
2. Cream butter and sugar until light and fluffy.
3. Alternately add the flour and the eggs mixing well after each addition.
4. Divide the mixture in half. Add the cocoa to one half and mix well.
5. Then drop spoonfuls of the mixtures into the prepared tin.
6. Put a knife into the mixture and draw it back and forth to make a marbled effect.
7. Smooth the top and bake for 40-45 minutes until risen and a skewer inserted into the centre comes out clean.
8. Allow to cool then remove from the tin. When cold, drizzle the top with melted dark and white chocolate.
Source: Odlums