Chicken Curry and Half and Half – Irish Style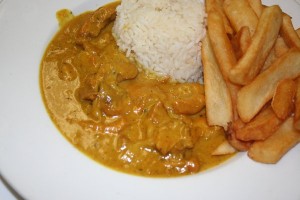 Irish people have a very specific idea of what Chicken Curry should be! This very popular dish epitomises the late night take-out and is not complete without the half and half sides – comprising of french fries AND rice! This recipe below provides a lower fat alternative to the chip shop dish. Delish!
Ingredients:
2 Chicken fillets
1 tbsp vegetable oil
1 onion, chopped
1 red pepper, diced
handful of mushroom
(optional extras: babycorn, peas, sliced zucchini, mangetout, cashew nuts)
5 large potatoes
rice
1 packet of Knorr Mild Curry sauce or if you like it spicier, try our Knorr Medium Curry or Knorr Hot Curry Sauce For a more traditional "Chip Shop" taste, try our Bisto Chip Shop Curry Sauce
Knorr Aromat All Purpose Seasoning
Method:
1. Preheat the oven to 350F
2. Wash and slice potatoes length-ways to create thick cut french fries. Place in an oven dish, cover liberally with vegetable oil and Knorr Aromat All Purpose Seasoning
and bake until the outside is crispy and the inside is piping hot and soft – approx 1 hr.
3. Slice chicken into strips and fry in a little oil until golden. Add onions, peppers and other vegetables. Fry until chicken is cooked.
4. Prepare rice as per its instructions
5. Blend contents of Knorr Mild Curry sauce or whichever of our curry sauces you have chosen; with 300 mls of cold water. Pour over chicken and vegetables and simmer until sauce has a nice, thick consistency and whole dish is piping hot
6. When Home made french fries are done, place them on dish and sprinkle with Knorr Aromat All Purpose Seasoning
7. Place rice on dish along side french fries and cover both with the Chicken Curry. Yummy!