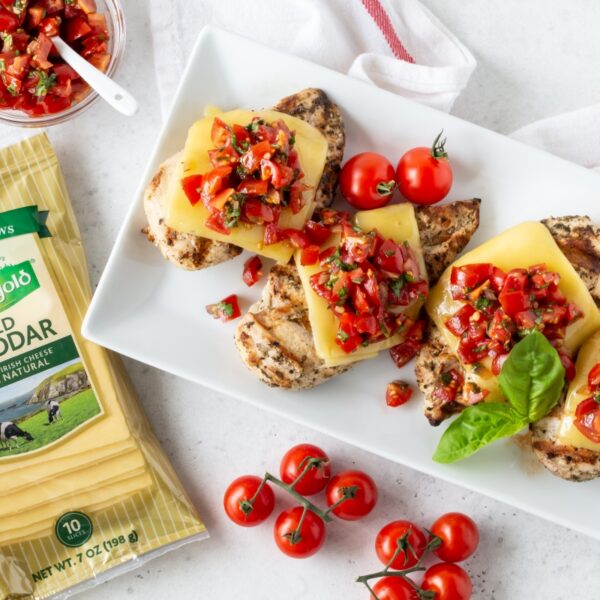 Cheesy Grilled Chicken with Tomato Basil Topping
Ingredients:
¼ cup plus one tablespoon olive oil, divided
2 tablespoons fresh lemon juice
½ teaspoon salt
½ teaspoon pepper
1 ½ teaspoons Italian seasoning
4 (6-ounce) chicken breasts
1 ½ cups tomatoes, chopped
1 clove garlic, minced
1 tablespoon minced red onion
1 tablespoon balsamic vinegar
3 – 4 tablespoons minced fresh basil
4 slices Kerrygold® Mild Sliced Cheddar Cheese
Salt and pepper
Method:
1. In a small bowl, whisk together ¼ cup olive oil with lemon juice, ½ teaspoon salt, ½ teaspoon pepper and Italian seasoning.
2. Place chicken breasts in a large plastic bag or shallow baking dish and pour marinade over top. Refrigerate chicken for at least 2 hours or up to 8 hours.
3. Preheat the grill to medium high heat.
4. Combine tomatoes, garlic, onion, balsamic vinegar, basil and remaining tablespoon olive oil. Season to taste with salt and pepper. Set aside.
5. Remove chicken from marinade, shaking off excess. Grill until internal temperature reaches 160 degrees F.
6. Top each piece of chicken with a slice of Kerrygold® Mild Cheddar Sliced cheese and close grill to allow cheese to melt.
7. Remove from grill and divide tomato basil topping evenly among chicken breasts. Serve immediately.
Source: Kerrygold USA