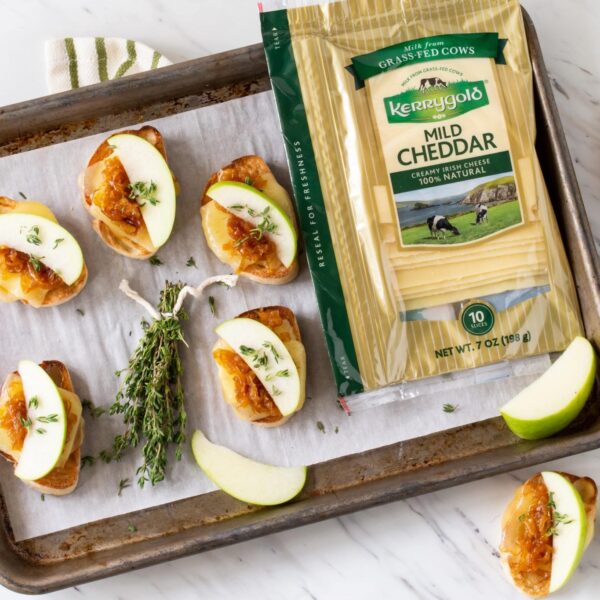 Cheese Crostini with Caramelized Onions Apples and Thyme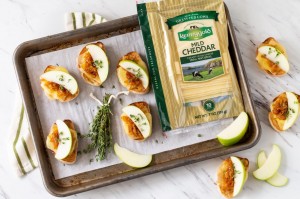 Ingredients:
1 tablespoon olive oil
1 tablespoon Kerrygold® Salted Butter
3 large onions, peeled and thinly sliced
1 teaspoon sugar
salt
1 baguette, sliced and toasted (about 20 slices)
10 slices Kerrygold Mild Sliced Cheddar Cheese
(cut into quarters, they will resemble squares or cracker cuts of cheese)
20 thin slices of Granny Smith apple
2 – 3 tablespoons fresh thyme leaves
Method:
1. Place olive oil and butter in a large pan. Heat on medium-low until butter is melted.
2. Add onions and stir to coat. Cook for 20 minutes, stirring occasionally.
3. Add sugar and continue to cook for another 30 – 45 minutes, stirring occasionally.
4. Season with salt to taste.
5. Preheat broiler.
6. Place baguette slices on baking sheet and broil until evenly toasted.
7. Divide caramelized onions evenly among baguette slices. Top each slice with 2 quarters/cracker cuts of Kerrygold® cheese.
8. Broil until cheese is melted. Remove from oven.
9. Top each warm crostini with one apple slice and a sprinkle of fresh thyme leaves. Serve immediately.
Source: Kerrygold