Another great nutritious egg recipe from Daniel Davey, Sports Nutritionist
Makes 10 medium size pancakes.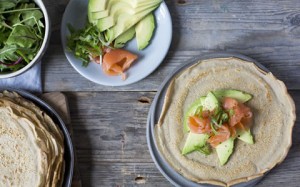 Ingredients:
1 cup almond milk
4 eggs
75g buckwheat flour
A little salt
Coconut oil for cooking
2 avocados, peeled and sliced
1 packet of smoked salmon, cut into strips
1 scallion, finely sliced
Method:
1. In a medium bowl, whisk together the almond milk and eggs. Add the buckwheat flour and mix until the flour is fully incorporated. Add a pinch of salt and mix.
2. Heat 1 teaspoon of coconut oil in a non-stick pan on a medium heat.
3. Pour 2-3 tablespoons of the crêpe batter into the centre of the pan, then tilt the pan to spread the batter over the base.
4. Cook for about a minute on each side.
5. Remove from the pan and place on a plate. Repeat with the remaining batter.
6. Fill your crêpes with either savoury ingredients like smoked salmon, avocado and scallions or sweet ingredients like fresh fruit and yogurt.
Source: Bord Bia