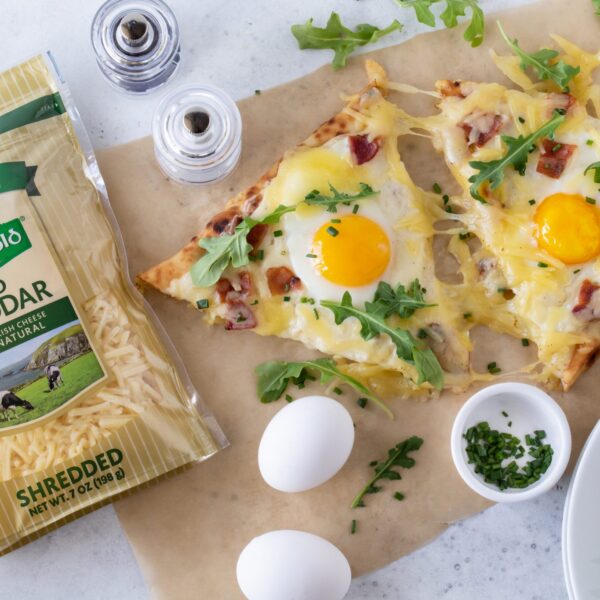 Breakfast Pizza with Eggs, Bacon & Cheese
Ingredients:
For the cheese sauce
1 tablespoon Kerrygold® Salted Butter
1 tablespoon flour
1 cup milk
1 cup Kerrygold® Mild Shredded Cheddar Cheese
Salt and pepper
For the pizza
1 large Naan bread (mine was a 6 ½" x 13" rectangle) or two regular-size Naan breads
4 medium eggs
3 strips cooked bacon, crumbled
½ tablespoon chopped chives
handful of fresh arugula
Method:
To make the cheese sauce:
1. Melt Kerrygold® salted butter in a saucepan over medium heat. Whisk in flour and cook for 1 minute, whisking constantly.
2. Slowly pour in milk and continue to whisk until smooth. Continue whisking and cooking until slightly thickened, about 3 -4 minutes.
3. Remove from heat and stir in ½ cup Kerrygold® Mild Cheddar shredded cheese until melted and smooth. Season to taste with salt and pepper.
Note: this makes more sauce than you need. Use the extra as a sauce over steamed broccoli or other vegetables. This sauce can be made a few days in advance and refrigerated until ready to use.
To make the pizza:
1. Preheat the oven to 425 degrees.
2. Place nonstick foil or parchment paper on a sheet pan. Place Naan bread on pan.
3. Spread ½ – ¾ of cheese sauce on top of the naan. Make four "wells" in the sauce for the eggs.
4. Crack the eggs into the wells in the sauce. Evenly sprinkle with bacon. Bake for 7 – 8 minutes (or longer if you prefer your eggs more well done).
5. Sprinkle remaining ½ cup of Kerrygold® Mild Cheddar shredded cheese over pizza and return to oven for 3 minutes.
6. Allow to cool slightly before cutting and topping with chives and fresh arugula. Serve immediately.
Source: Kerrygold USA