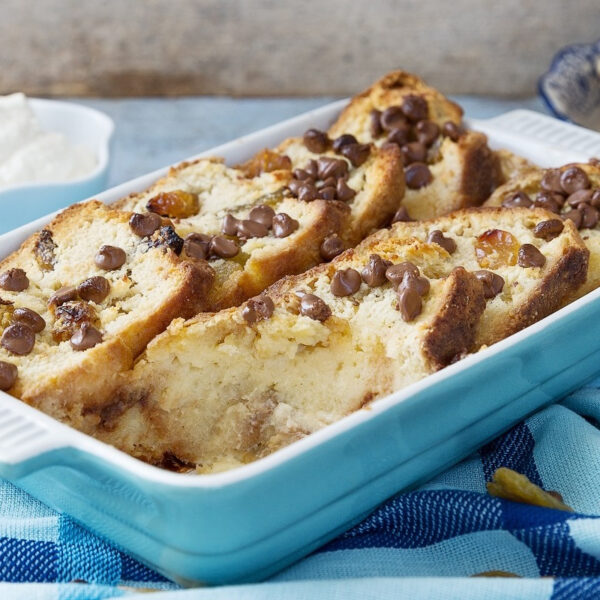 Bread & Butter Pudding
Ingredients:
1 loaf Fruit Soda Bread (see below)
50g/2oz Butter, softened and extra for greasing
600ml/1pt Milk
4 Eggs
150g/5oz Golden Caster Sugar
100g packet Chocolate Chips
Fruit Soda Bread
450g/1lb Odlums Cream Plain Flour
1 level teaspoon Bread Soda
2 level teaspoons Cream of Tartar
Good pinch of Salt
1 tablespoon Golden Caster Sugar (optional)
50g/2oz Butter or Margarine
50g/2oz Sultanas, Raisins or Currents
300ml/½ pint Milk (approx)
Method:
1. Preheat oven to 180C/350F/Gas Mark 4. Grease an ovenproof dish with butter.
2. Slice fruit soda bread into slices and butter each slice. (see recipe below)
3. Whisk the milk, sugar and eggs together in a bowl.
4. Place a single layer of the bread in the dish, pour ⅓ of the milk mixture over and then sprinkle ⅓ of the chocolate chips on top.
5. Repeat another layer of the bread, milk mixture and chocolate chips.
6. Then finish with a final layer of bread, milk mixture and chocolate chips, and bake for 50 minutes in preheated oven until golden brown and crunchy on top.
7. Serve warm with cream.
Fruit Soda Bread
1. Preheat oven to 200°C/400°F/Gas 6.
2. Sieve flour, bread soda, cream of tartar and salt into a bowl. Add sugar, if using.
3. Rub in butter/margarine until mixture resembles breadcrumbs, lifting with fingertips to introduce air to the dough.
4. Mix in the fruit, then add milk and mix to make a soft dough.
5. Turn onto a lightly floured board and knead a little.
6. Turn the smooth side up and shape into a round. Place the dough on a floured tin and cut a cross over the top.
7. Bake in preheated oven for 40-45 minutes. Bread is baked when it produces a hollow sound when tapped underneath.
8. Cool on a wire tray. Cover with a tea towel to give a soft crust.
Source: Odlums